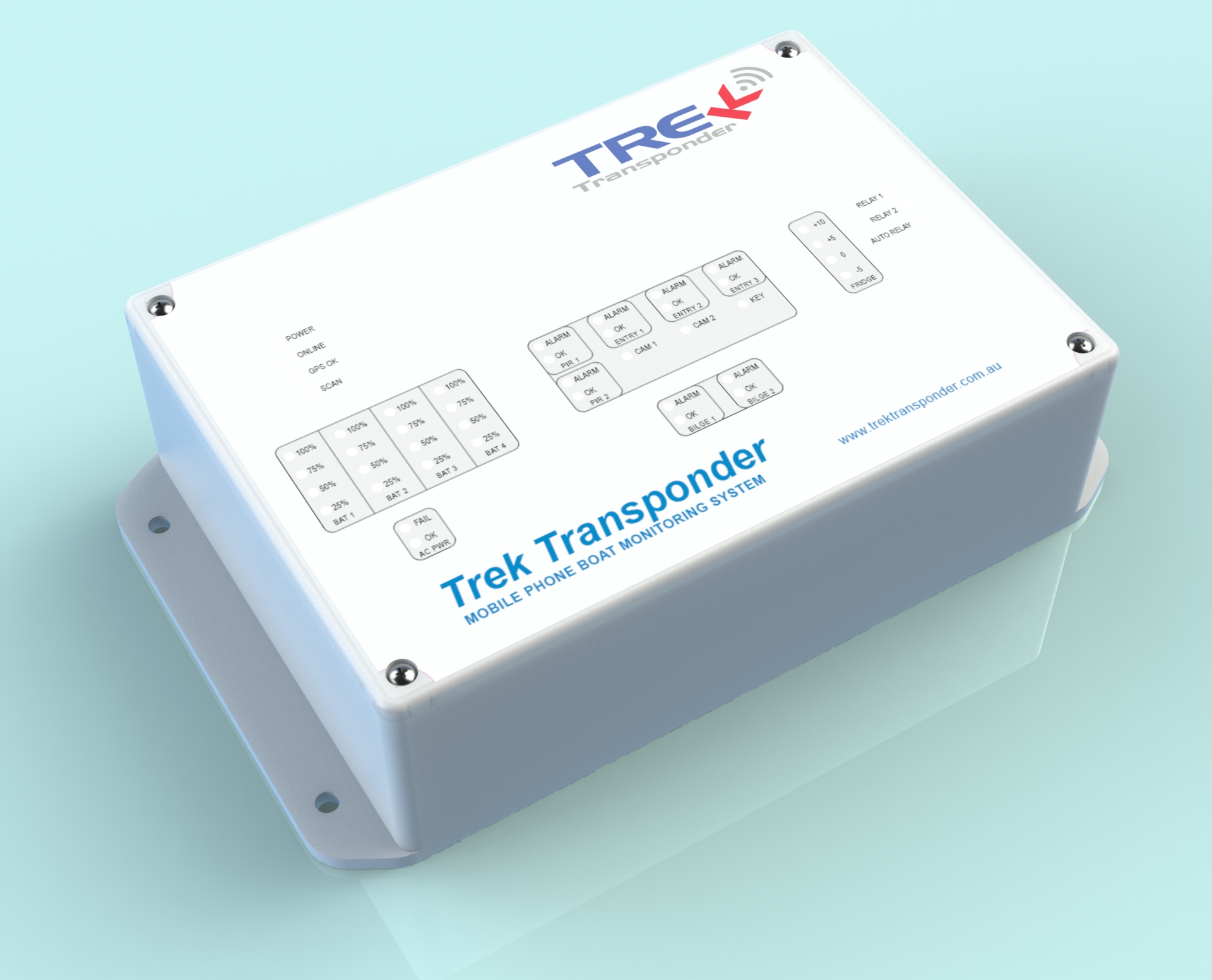 Trek Transponder connects you to your boat 24/7 via 4G SMS text messages and pictures on your phone (Examples at bottom of page…).
You can check bilge is dry, batteries charged, shore power is on, location is right and are the doors and hatches locked – any time. You will feel great knowing your boat is OK instead of wondering.
If theres something wrong Trek Transponder will send you an SMS text message and optional camera images so you can fix the problem early, before it becomes expensive or a disaster.
If its a security alarm Trek Transponder can also automatically turn on a siren and flashing blue light deterrent or you can command them on manually.
If you want to see where your boat is on a map Trek Transponder will automatically connect you to Google Earth so you can, instantly. Optional Iridium Satellite link for global coverage.
Professional users requiring record keeping can have Trek Transponder automatically email the boats location and whats happening on a regular basis.
The Australian Maritime Museum at Sydneys Darling Harbour rely on Trek Transponders to protect their many precious boats, so can you.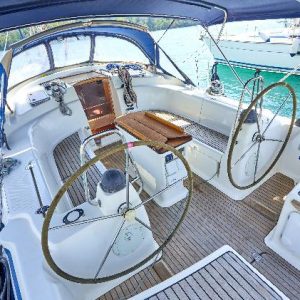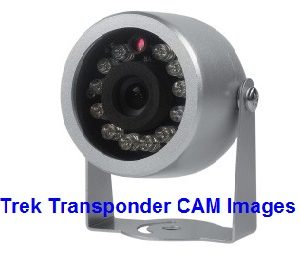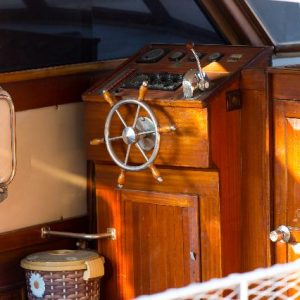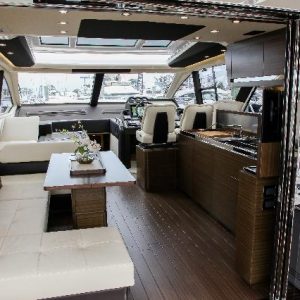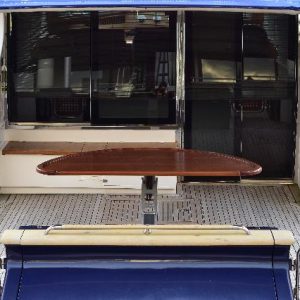 The benefits of monitoring your boat with a Trek Transponder are huge.

Call us on 02 8078 6905 to find out more, or read on…

SECURITY
Your boats decks, doors, hatches and areas below decks are monitored by Trek Transponder and its intruder sensors. If an intruder is detected on board you will get a fast SMS. Trek Transponder can automatically activate siren and flashing lights in this case or remain silent and you can check out the situation with the cameras or call security personel. You can avoid the cost and annoyance of having your expensive electronic gear, marine equipment, outboard motor and other valuables stolen.

OPTIONAL CAMERAS
Trek Transponder is unique in offering colour cameras. If you get an alarm you can SEE whats happening. You can verify an intruder and provide photos to security personel. Or you can watch a maintenance issue. You have the option of seeing whats going on.

BILGE
Your boats bilge is monitored by one or more float switches connected to Trek Transponder which will alert you by SMS should water level become too high. Unless you are on your boat you don't know how much water is in the bilge. Save yourself expensive water damage costs by finding out early with a Trek Transponder SMS if there is. Flooring, carpets and under floor wiring and plumbing are expensive if ruined. Dont let that happen.

BATTERY VOLTAGES
Trek Transponder can monitor up to four battery banks of either 12V or 24V type. If any become low voltage Trek Transponder will alert you by SMS. Batteries are easily damaged if they go too flat, and are expensive to replace. And your bilge pumps dont work. Find out if theres a problem with your batteries by fast SMS from Trek Transponder before it costs you. Trek Transponder can also monitor AC shore power instantly if it fails.

LOCATION (GEOFENCE)
The location of your boat is monitored by Trek Transponders built in GPS. If your boat moves away from its allowed area this may mean a failed mooring or an attempt at theft. When cruising Trek Transponder can tell you that your boat is still where you anchored and hasnt dragged. Trek Transponder will SMS you if your boat moves outside its area. You can attend to the problem quickly before disaster. You could save yourself the expense and difficuilty of retrieving your boat aground or drama and expense of your boat hitting another boat.

SEA MOTION
Trek Transponder is the only Marine Transponder to monitor boat pitch and roll. This is essential for boats kept on moorings that are not sheltered. Model S100A and SM100A alert you to your boats excessive pitch and roll sea motion – that can break a mooring. Also very handy for monitoring potential anchor drag when cruising. Trek Transponders pitch and roll function will also alert you early to your boat listing and SMS you if it goes past a limit. So you can quickly find out why and fix the problem. In some cases the pitch roll monitor can alert you to the impact of a collision.

FRIDGE
Depending on model a temperature measurement input is available. Measurement range is -25 Deg C to 120 Deg C. This can be used for monitoring temperature of fridges and freezers. Fridge or freezer failure can cause substantial and expensive losses of food or bait. It can also be used for monitoring engine coolant temperature. (An optional Trek Transponder expander increases number of temperature measurement inputs to eight).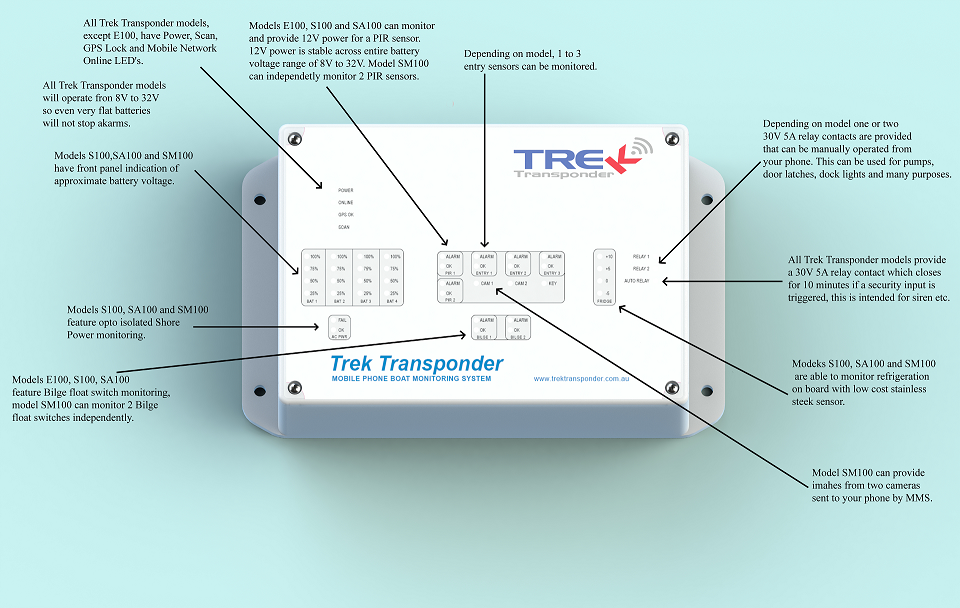 SM100 Trek Transponder Pictured
Typical Trek Transponder Messages that come to your Phone from your Boat